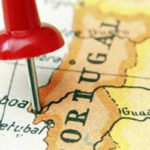 The number of people choosing Portugal as a new home continues to rise, with almost 83,000 new residence permits being issued between the beginning of January and the 15th of September, of which about 24,000 are under family reunification.
In a statement, the Ministry of Internal Affairs (MAI) reported that by mid-September, 82,928 new residence permits had been issued, 23,861 of which were for family reunification, and 59,102 residence permit renewals.
"These figures are much higher than in the same period last year: 42% more in new residence permits (58,562 from January to September 2018), with a 36% increase in family reunification (17,598 new permits were allocated in the same period last year), and an additional 8% at the level of renewals (54,530 in the same period of the previous year)", reads the statement.
Data that, for the MAI, demonstrates how "Portugal is recognized nationally and internationally as a country open to immigration", and shows the trend of positive migration balance that was already presented in the latest report from the Observatory of Migration.
Also, the Organization for Economic Co-operation and Development (OECD), in its annual report on migration, released last week and quoted in the statement, states that "Portugal is the country where immigration grows the second most in all OECD countries".
According to the OECD report from 2017, Portugal received about 40,000 new long-term or permanent immigrants that year, 20.6% more than in 2016.